30 Oktober 2009 // Filed under Interview + Magazin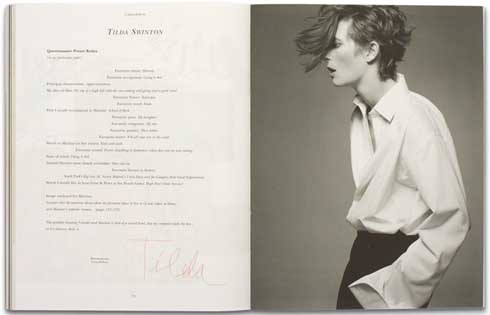 For our third and final installment of Martine Sitbon's series of Proust Questionnaire interviews, we offer you the muse of many, one of today's most iconic faces in film and fashion – Tilda Swinton. In her shortened and personalised edit of the Proust Questionnaire, Tilda shares a brief yet poignant glimpse into her private world – her family, her sensibilities and her wicked sense of humour. Featured alongside her words is a photograph she herself has taken for Martine, featured below, and Craig McDean's elegant portrait of Tilda. Having featured in both A#3 by Haider Ackermann and A#5 by Martine Sitbon, Tilda is somewhat of an A regular – let us hope our paths cross with hers again in the future.
(via A BLOG curated by » Questionnaire Proust Redux #3: Tilda Swinton.)
Tilda Swintons Antworten auf den Proust'schen Fragebogen finden sich hier.
2009-10-30 :: mahret